Elva Stopke
"My focus will always and only be you – County employees who work hard for your pension and deserve every last dollar you've earned. It will be an absolute privilege to have your support and represent you."
-Elva Stopke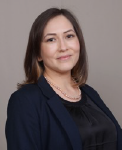 Elva will be the strong voice County employees need to protect the retirement we've worked so hard to earn.
For nearly a decade, Elva has dedicated herself to public service making the County of San Diego work for all of us – workers, our families and struggling San Diegans.
At HHSA, Elva accurately reviewed budgets to ensure families in need were getting the benefits they deserved. As a case manager at Child Support Services, Elva led tough audits to ensure every child received their fair share and never hesitated to press the case in court when vulnerable kids needed urgent help. Now, Elva is a Recordable Document's Specialist in the Assessor/Recorder/County Clerk's office performing civil marriage ceremonies and examining legal documents to be recorded into the public record.
On the County Retirement Board, Elva will put her commitment, passion and fiscal experience to work protecting the pensions we're all counting on. With the current volatility of the financial markets, Elva will insist on only reliable, responsible investments that keep pensions secure for current retirees and the pension fund thriving for the future.
"Elva is the type of person that I want on my side. She is detail oriented, driven, and exacting. Elva has the understanding of departmental budgeting and financial responsibilities. She would transcend with ease into the role of a fiduciary as a SDCERA Board Member acting in the best interests of all parties. She is the right person for this position to act on our behalf to protect our retirement and to maintain the growth of the fund."
-SDCERA Board Trustee, Bob Goodchild
"Elva Stopke has been on the frontlines as a union steward and County worker. We can count on Elva to protect our retirement security and always fight back against attacks on our pensions."
-Crystal Irving, President, SEIU 221, County Employees Union
Endorsed by
SEIU 221, County Employees Union
County Treasurer Dan McAllister
County Chairwoman Nora Vargas
County Supervisor Terra Lawson-Remer
SDCERA Board Trustee Bob Goodchild